Outing~~
Yesterday was a rainy day, almost thought it was qing ming jie cos every year will rain.. It rained from morning to evening, made me want to sleep, which i really did in the afternoon..wahaha.. what to do, i'm a lazybone.. Rushed to West Mall to buy ah gong's present cos was going to give him surprise at ktv today.. That's why forced him to join us.. Haiz.. have to act as a bad person again... Bought a Parker pen set plus a doggie hp accessory... Saw some nice dresses and skirts at Dano and This Fashion.. want to go buy leh...
Today is
Qing Ming Jie
, reminded me of the story " The Legend of Lady White Snake".. Lady White Snake met her husband on this rainy day and it was love at first sight.. Too bad it is a tragic ending as the husband cannot accept the fate that his wife is a snake.. Why is it that men only love what they can see.. so what if she is a snake? She had helped a lot of ppl when she was a doctor.. The worst part was the husband listening to the monk and use the powder to test the wife.. How can he side with an outsider? He should love her regardless of what she is... Men are never satisfied and must always seek out the truth.. why cant he just leave things as they are and lived happily ever after.. That is also why guys tends to have a lot of affairs, not being satisfied of what they already have.. only started to regret after they lost it.. Haiz...
Anyway, went to see "House of Fury" at Northpt with Ah gal Karen, Ah gal lao gong Kit Yee and Ah gong Dave.. The ticketing system got error and we had to wait a while.. Ended up getting tickets
manually written
wor.. rare so must keep the tix properly.. wahahaha.. When we went to the theatre, it showed the current session to be "Ms Congeniality 2", so we were quite worried that it was the wrong theatre.. I was fully prepared to lodge a complaint if it is wrong.. wahha.. After waiting for 10 min, we asked a mother and daughter (I think) entering the theatre what show are they watching and it was the same as ours.. so we happily sat down, relaxed and waited for the show.. it was quite a relaxing and enjoyable movie, that earned some laughs from us.. Best part is got handsome guys and pretty gals + the fighting scenes..After that, we went Poh Kim and i bought Princess Diaries 2.. finally found an original one.. haha.. then went to eat lunch at Long John Silver...
After that, went down to AMK to sing ktv at Kbox... Asked Michelle, Cheng Ying and Jiahui to go buy cake as they were already there.. They bought
a chocolate mousse cake
from Emicakes, which were yummy.. reminded me as my birthday cake though... I was very tired cos need to go and wait for them at the entrance so that can let them write the card one by one.. Had to do that again for Joycelyn.. Haiz..
TIRED!!!
Very happy to be able to sing lots of songs today.. finally managed to sing lin guan yin's song, Hui Mie Ai Qing, at the Ktv.. haha.. 5 hours straight.. shiok.. Went to Breeks later for dinner.. I order mushed potato and fried chicken basket..the mashed potato is still as good as before, though Michelle said she dont like the garlic smell ba (not sure why she dont like.. haha). The fried chicken basket is like KFC 2 piece meal, only it is more exp and tasted bad.. Think the chef over-seasoned it, cos very salty for my taste... After eating, we sat there and asked leng xiao hua.. too bad, my mood is spoilt by mom, who want me to come home early as we are going genting tomorrow.. haiz.. She is always shouting, fan si ren le... We took a lot of pics today using Michelle's and Joycelyn's cameras.. haha.. U two must remember to send to me hor.. I managed to take one pic with Karen using my hp.. She was so
unwilling
.. hahaha.. That's all.. need to sleep..
Joycelyn drinking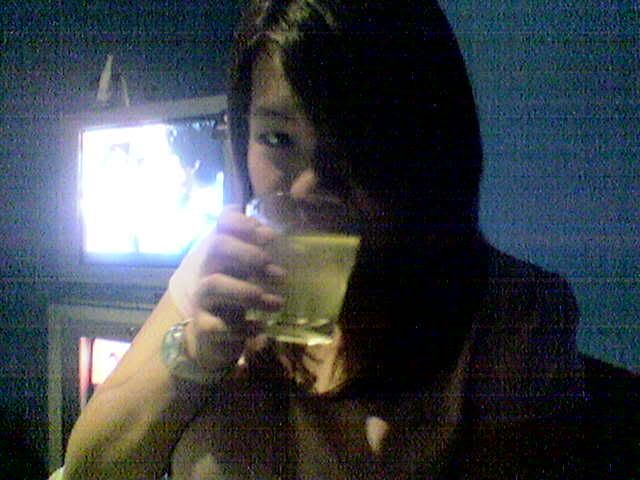 Me and Karen