Don't Scratch the Top of a CD!
I was working with my colleague, Jenny, yesterday when she suddenly turned around and asked me one question.
"Which side of the CD, when scratched, can no longer be listened?"
Although i felt weird with her question, i still answered, " The bottom of the CD, the shiny part.." Which she immediately gave a big "Wrong" as a response.. This really triggered my curiosity and i asked her why..
She told me that the data in a CD is actually stored at the top of the CD, thus when you scratched the top, the machine is unable to read the disc anymore.. She got to know this during a meeting and she even asked her cousin, an computer engineer about the accuracy of the info..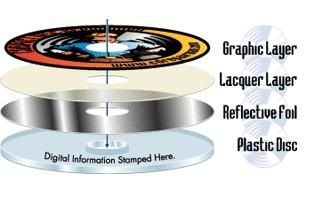 I was pretty surprised as nobody had told me this before.. I believed not a lot of people know about this as most of my customers only check the bottom side of the disc.. Even i, working there for 2 years plus dont even know..

Yesterday night, after hearing what she said, i decided to check this online for any related articles.. ( i believe her but still need to get more info to post entry). I found two and here are the links:
1. http://www.cdrepairman.com/repair.html
2. http://www.tuxfordscreenprint.com/News/News.aspx?ID=100

So people, next time you look at a disc, pls look at the top as that's where the existence of scratches really counts...


Funny video to watch for relaxation: http://xiorix.spymac.net/Stun.wmv