A day with Christine
Woke up at 7am, with less than 5 hours of sleep.. Cannot make it.. Feel like a pregnant woman or someone with a hangover.. want to gag..
Solve this by drinking coffee and eating Famous Amos chocolate chip cookies that are more than 1 month old... Did i mention i have a weak stomach? Well, i do.. Straight to the loo, is where i went halfway through my breakfast.. However, i suspected it had more to do with the coffee than the cookies.. Hahaha.. Still, i dont want to take any risks and throw the rest of the cookies away... behind my mom's back... She hate to see things go to waste..
_____________________________________________
Accompanied Christine dear to Bukit Batok Driving Centre yesterday to top up her account. The stupid gal forgot that her account expired today.. haha.. saw si wee there, as a cashier for the day.
Anyway, we took a cab back to west mall cos it was drizzling.. The cab driver is really... *shakes head...* so full of opinions.. Then Christine and i went to walk one round around West mall.. really one round, cos we just took the escalator to level 4 then came down straight away.
She wanted to cut her hair so i accompanied her to the place she frequents... Saw her mom on the way home... really look like her sis.. so young.. haha.. Nah....
Christine cutting hair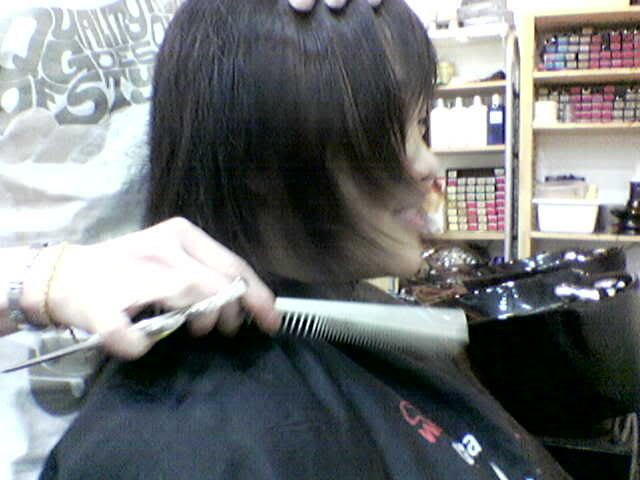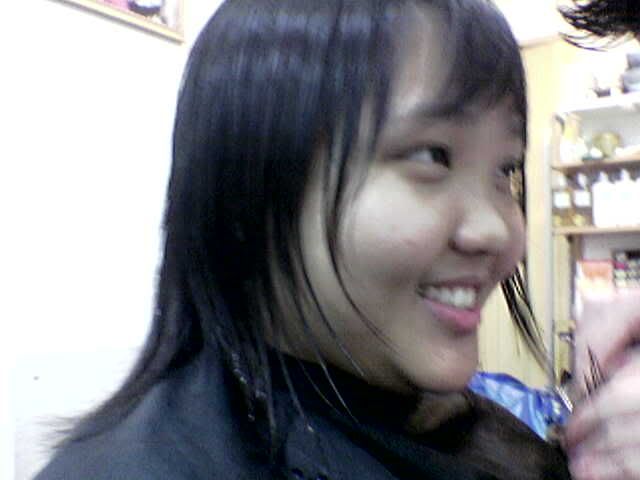 Christine with her funny hairstylist..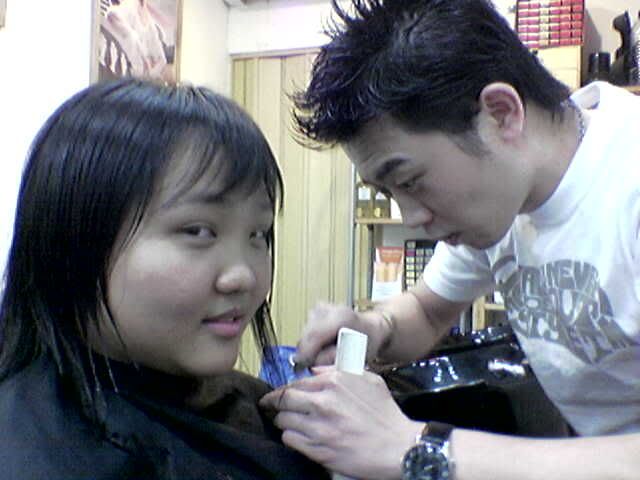 This hairstylist is really funny. i was taking Christine's pic and he thought i took his.. even posed for me.. but too bad, didnt take that pic.. haha.. He even asked Christine to be his manager to help him expand worldwide... must appear on the TIME mag cover.. haha..
At first i also want to trim my hair there but quite exp wor.. and then i shy mah.. my hairstylists are all female.. haha... see next time lah... when i got money or something..
We went to 7-11 after that, wanting to buy Mr Softie to eat.. Ended up only got enough for one cup and the staff gave it to us for free loh.. wow.. nice uncle.. hahaha.. Then while we eat, we went to POSB cos Christine want to update passbook... As there was a queue, i asked her to go to the machine at the opposite, ouside DBS..
The stupid gal dont know can use DBS's machine loh.. so funny.. i spent my time suaning her.. haha.. must practice my "suaning" skill cos long time never use already.. She also thought that you had to deposit money to update the passbook as the machine is those deposit money type...
After that, we went to emicakes shop where she bought durian puffs.. i tell you, i think she will be gaining weight soon.. hee.. Then we shared a packet of ice lemon tea from S11.. their lemon tea super nice.. Walked back to west mall where we walked around again..
Haha.. bought ice-cream for dessert but didnt really eat it yet.. Christine also bought ice-cream.. see, i told you she will be gaining weight..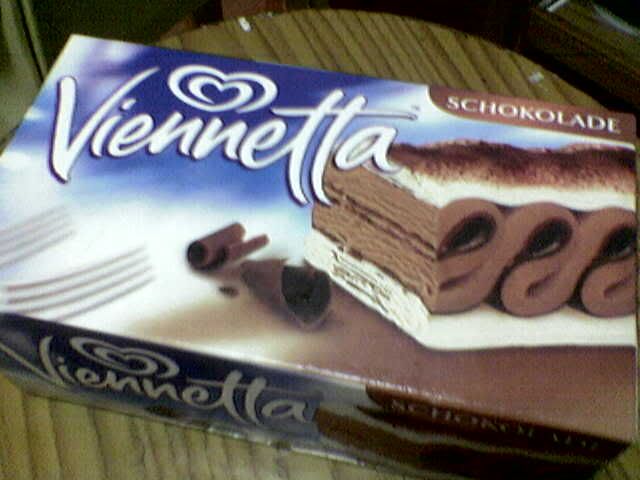 Both of us also bought a bag each...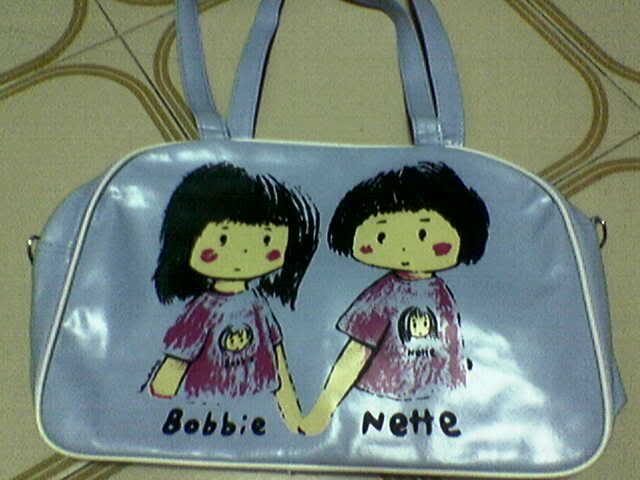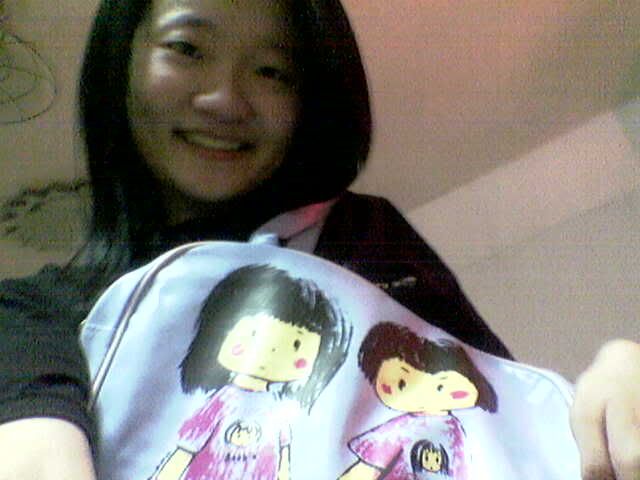 Cute right? Only 7 bucks loh.. bought from one of those pushcarts at West Mall... Christine's one has the design of Winnie the Pooh and is white. At first, i actually wanted mine in white as it was the one displayed while Christine wanted a blue one.. we sort of changed colours leh.. haha.. After that, we went back home separately cos ice cream was melting.. haha
_______________________________________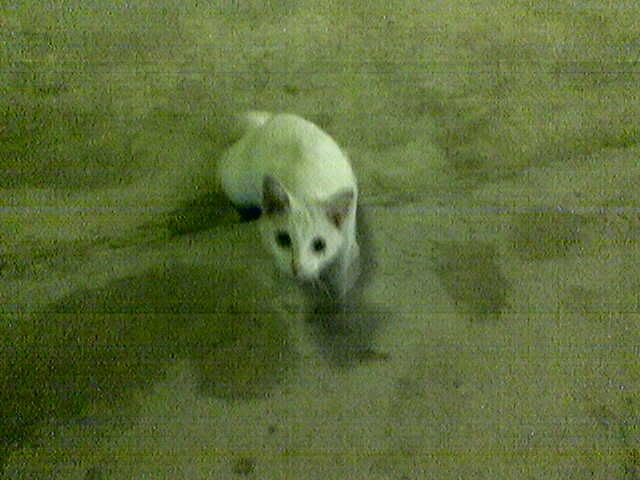 Saw this white cat on the way home.. it was scratching his body with its paws and stretching.. so cute.. too bad my phone cant take a clearer pic.. Sighz.. i must be crazy... actually expecting a camera phone to be as good as a digi cam... Never mind, i will save up for a cam..